AcraTex Tilt and Pre-Cast Construction System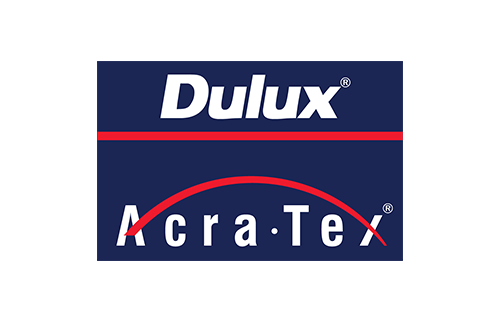 Dulux AcraTex high performance render and texture coating systems for tilt up and pre-cast concrete.
Texture Systems
High Build Finish: Use Dulux AcraPrime and coat with AcraShield.
Acrylic Texture Finish: Dulux AcraSand 958 should be applied prior to the selected Dulux AcraTex acrylic texture coat.
Top Coat
All Dulux AcraTex acrylic textures should be over coated with Dulux AcraTex AcraShield Advance to ensure proper protection of the Dulux AcraTex System.
Key Features
10 year warranty when applied as a full AcraTex system.
Durable.
Guaranteed long term exterior durability & water resistance.
Easy, safe and economical clean-up.
Extensive, deep colour range.
Resists pollution, chemical attack and dirt pick-up.
Resistant to Diffusion of Carbon Dioxide Crack bridging 5 times average film build.
Scope of Use
Substrate Preparation
Remove grease, form oils and release agents.
Shiny surfaces should be acid etched and the surface thoroughly rinsed clean to be free of acid deposits.
Embedded steel, nails and reinforcing chair legs or spacing bars on or very close to the surface should be either removed or coated with epoxy to guard against corrosion, which could lead to rust stains.
Check for the presence of release agents and bond breakers by simply splashing water onto the concrete substrate, if water beads on the surface then total removal of the release agent or bond breaker is required.
The use of Dulux AcraTex Tiltwash is recommended for the removal of release agents or bond breakers.
The repair of surface imperfections, cracks or flaws should be repaired as per the manufacturers specification.
Structural control or expansion joints should be filled with a backing rod and flexible paintable polyurethane mastic.
Texture and Finish
All Dulux AcraTex texture coatings should be overcoated with Dulux AcraTex Acrashield Advance, which can be tinted to any colour from the Dulux colour range.
If a dark colour is chosen over a Acrylic texture two coats of AcraShield Advance is recommended to attain good coverage.
All texture and colour samples must be signed by the architect or owner prior to application. 
A durable exterior acrylic texture system from Dulux suitable for all masonry substrates, concrete and lightweight cladding.
Get a free weekly digest of essential news
New and updated architectural products, design solutions, inspiration, technical advice and more when you sign up for EBOSS.