XLam CLT Floor System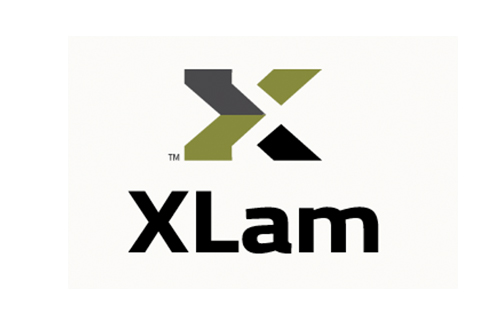 XLam Cross Laminated Timber (CLT) floor panels are custom-made in sizes, thicknesses and profiles to suit most residential and commercial jobs.
CLT is made from layers of solid timber planks face-glued together in alternating directions to make large, stable solid wood construction panels. Span capacity increases with the number of layers and overall panel thickness. 
Key Features
XLam panels are big (up to 15m x 3.5m), and fit together quickly on site, making building much faster.
For buildings large and small, XLam panels connect together as a complete engineered wood building solution. Each XLam panel is custom-made to suit the structural needs of the project and required appearance.
Panels are manufactured using the latest European CNC machining technology to ensure high precision and eliminate site waste.
Safe to erect, weighing only 20% as much as concrete. Safe to inhabit, being strong and flexible under load.
XLam CLT is sustainable. Wood stores carbon to help save our planet.
Out-performs conventionally framed construction in air-tightness, thermal insulation, internal moisture management, acoustic insulation and fire resistance. 
Available in standard non-visual or visual appearance grades.
Scope of Use
Factory prefabricated CLT is used for floors in residential, commercial and industrial buildings, including floor diaphragms in multi-storied timber construction.
CLT is very economical for residential floors, particularly those on sloping ground where a flat floor platform can be quickly achieved. The span and cantilevering capabilities of CLT permit economies in foundation support.
XLam floor panels are craned into position at the rate of approximately 100sqm floor area per hour, meaning an entire house floor can be placed in less than four hours. This represents a large saving on-site labour. 
In-Service History
XLam NZ Ltd is the first company to manufacture and commercialise CLT in Australasia. The XLam factory is located in Nelson, New Zealand, where the immediate accessibility of quality timber and manufacturing resource has established an engineered wood industry cluster.
Statement of Building Code Compliance
As yet there are no Australian or NZ standards specific to the manufacture and use of CLT. However, CLT is very similar to Glue Laminated Timber in that it is manufactured from finger jointed, dried timber using glue lamination under pressure. XLam manufacture complies with Adopted Standards which govern the design, preparation, finger jointing, planing, lamination and verification of XLam CLT products:
AS/NZS 1328 Glue Laminated Timber Parts 1 & 2
AS/NZS 1491:1996 Finger jointed structural timber
ISO/TC 165/SC N695 (Working Draft): Timber Structures – Cross Laminated Timber – Part 1: Component Performance and Production Requirements
XLam are dedicated to the supply of sustainable engineered building solutions in natural solid wood.
Popular Products from XLam Cross Laminated Timber Panels