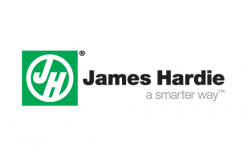 James Hardie
James Hardie is an international building materials company and a global producer of fibre cement.
Product literature confirmed current on April 17 2015
Contact
Stria Cladding
Description
Stria Cladding is a wide format board that has the classic appeal of decorative render and solid masonry. Pre-primed and easy to install, Stria Cladding is the fast way to achieve a timeless look that endures. For use as an external wall cladding installed either horizontally or vertically in residential and light commercial.
Product Profile:
14mm thick 
4200mm long 
405mm wide 
Key Features
Scyon technology delivers enhanced stability, strength and durability
The interlocking edges allow for fast and easy installation
Installed on CLD Structural Cavity Battens, glued and brad nailed for quick installation
Large format board speeds up installation
The boards are factory sealed and are face primed and accept a range of paint finishes and colours
30 and 60 minute fire resistance ratings can be achieved in conjunction with RAB Board when installed as per the James Hardie Fire and Acoustic Design Manual
A vertical jointing option available to create a feature along long walls
Low maintenance and durable
Stria Cladding has a product warranty of 15 years
This file is only available to registered users.
Log in below or sign up for a free EBOSS account.