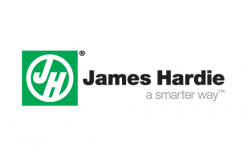 James Hardie
James Hardie is an international building materials company and a global producer of fibre cement.
Product literature confirmed current on April 17 2015
Contact
Linea Weatherboard
Description
Linea Weatherboard provides traditional weatherboard look with deep shadow lines that should ensure sustainability well into the future. A 16mm thick bevel backed, tongue and groove jointed, pre-primed manila white board. Linea Weatherboard can be painted dark colours.
Product Profile:
16mm thick
4200mm long
135mm, 150mm and 180mm wide
Key Features
16mm thick bevel backed weatherboard
Tongue and groove ends for easy and unflashed off stud jointing reducing waste on site
Linea Weatherboard is resistant to the damage from moisture and rotting when installed and maintained correctly
Boards come pre-primed manila white in colour and have a 25 year product warranty
30, 60 and 90 minute fire resistance ratings can be achieved when installed as per the current James Hardie Fire and Acoustic Design Manual
Linea Weatherboard can be used to achieve bracings
Exceptional performance in harsh conditions, including coastal environments
Scyon technology means Linea Weatherboard falls under a lightweight cladding category
Linea Weatherboard has enhanced stability and can be painted dark colours
Linea Weatherboard has been BRANZ appraised
Linea Weatherboard has been CodeMark certified
This file is only available to registered users.
Log in below or sign up for a free EBOSS account.