The latest Building Code updates from MBIE include updates to the acceptable solutions and verification methods to help make new homes and buildings warmer, drier and healthier. These will see the minimum insulation requirements for new building work increase for roofs, windows and floors.
This means significant changes for all parts of the sector — manufacturers, suppliers, builders and homeowners. The changes go as far and as fast as is achievable using current insulation products and construction practices, and move us towards the goal of better quality homes and buildings for New Zealand with less impact on the environment.
In addition six new climate zones are being established to reflect the specific weather experienced in different parts of the country. Homes and buildings will need to be designed and built with specific minimum insulation requirements for the climate they're located in.
Here is an initial summary on the changes from Jason Quinn, Director of Sustainable Engineering:
Residential
Housing will require R6.6 roofs and R0.46+ windows but only R2.0 walls and R1.5+ slab on-grade floors. The calculations for windows have been changed to explicitly align with ISO standards, the same ones we use in Passive House methodologies. The slab on-grade floor calculation methodology is to an ISO standard but with internal dimensions, so it is not comparable to what you'd calculate for a Passive House build.
What does it mean?
Aluminum frames will require thermally-broken frames in my view and will have to use very good low-e glass.
Timber frames (inherently less conductive) would make more typical low-e glass an option.
Slab on-grade requirements of R1.5: checking the table in H1/AS1 shows it will require at least edge insulation for single family detached homes throughout New Zealand (unless it's a mansion).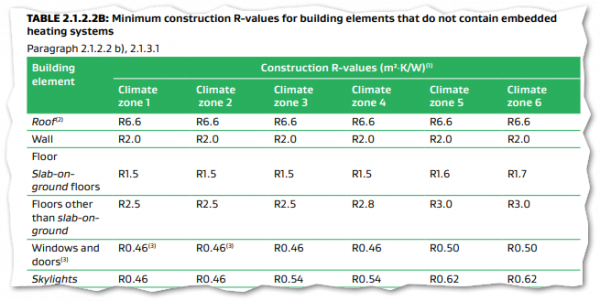 Commercial
Here we see much larger changes, which makes me happy. The increase in R-value is much larger as the existing requirements for commercial buildings were so pitiful. Still, in the coldest climates R7 roofs and R3.2 walls with R2.6 slab on-grade will be a good change.

Read Jason's full summary on the Sustainable Engineering blog
There will be a one year transition period for the sector to understand and prepare for the changes before they become mandatory in 2022. However, new window insulation requirements in the warmest climate zones will see a two-step approach with an interim increase in the next year and an additional increase in the following year. By the end of 2023, all parts of the country will have a similar minimum level of window insulation levels.
The update also includes changes to natural light requirements for medium density housing, weathertighness and structural requirements. Click here to see an overview of the changes.
For more information on these and other upcoming changes to the Building Code, please visit the 2021 Building Code Update section of the MBIE website.
---
Webinar video now live
To help you understand these changes and what they will mean for the industry, we invited Jason Quinn, Director of Sustainable Engineering and Robyn Ryan, Building Enclosure Engineer at Oculus to take you through a summary of the changes in a webinar on Tuesday 30 November. If you weren't able to catch the webinar, you can now view the full video below:
---
MBIE Webinar — 2 December
MBIE are running a webinar on 2 December 2021 to provide more details on the changes, and answer any questions. If you, or anyone you know, would like to attend then register online here.
Sign up to get the latest information and updates from MBIE by visiting building.govt.nz.
Image credit: Erica Sinclair, True stock image purchased by MBIE.