Warmup Undertile Heating System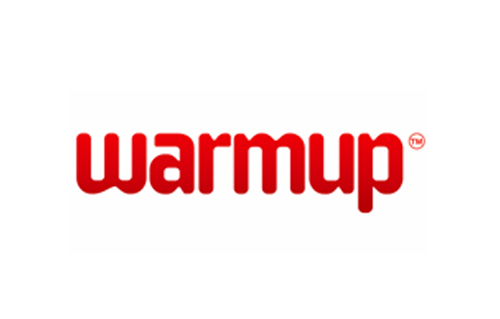 Description
Warmup Undertile Heating is a system of low-temperature electric radiant elements which are laid directly under the floor covering and deliver luxurious and efficient heating for residential and commercial properties, including wet areas. Undertile heating can be used as either background heating to remove the chill of tiles, or in conjunction with carpet heating (or other forms of heating) as a primary heat source, and is suitable for concrete or timber floors. 
The Warmup Undertile Heating element is a multi stranded conductors, teflon insulated (fluoro polymer), full earth screen with outer PVC insulation. All heating elements are factory terminated and available in 13 different sizes. The element has an overall diameter of 2.40mm. Each different element length is colour coded to ensure the correct element is used. The heating element is laid (evenly spaced) directly on top of the floor to be tiled and then covered with a specially formulated protective screed (optional). It offers a perfect substrate for laying tiles and when used in conjunction with a flexible tile adhesive, will remain stable under tiles over concrete and if used over wooden floors, a stable overlay is required. Warmup undertile heating installation will add approximately 3-4mm to the floor height when protective screed is used.
Connection to power is made via cold tails brought up from floor surface, hidden within the wall cavity, to the point of control. Proximity to the tiled surface results in significantly increased response time in comparison with other in-floor heating systems. As such, maximum efficiency can be achieved by control using a floor sensing thermostat. 
Key Features
Can be installed in new and existing homes, hotels, aged care facilities, apartments and terraced homes
Can be used with ceramic, porcelain, terracotta, stone, slate, marble or wood
Easy to install
Maximum efficiency can be achieved by using a floor sensing thermostat
Undertile heating can be used as either background heating to remove the chill of tiles, or as a primary heat source for homes
The heating elements and controls are approved and certified to New Zealand and International standards
Scope of Use
Warmup Undertile Heating has been appraised (BRANZ Appraisal 644 [2017]) for use in internal dry and wet areas of buildings within the following scope:
on structural substrates of concrete, plywood or compressed fibre cement sheet (excluding particle board flooring); and,
with optional floor overlays of fibre cement tile underlays or Warmup Insulation Backer Board; and,
when protected from physical damage by a screed and ceramic or stone tiles; and,
where floors are designed and constructed such that deflections do not exceed 1/360th of the span; and,
movement and control joints in the substrate must be carried through to the screed, tile or stone finish; and,
the design and construction of the movement and control joints is specific to the building and therefore the responsibility of the building designer and building contractor and is therefore outside this scope; and,
when used in a wet area a waterproofing system must be used; and,
where floors are designed not to exceed a continuous operating temperature of 35°C; and,
the system must be installed using detailing as set out in the Technical Literature; and,
Warmup Undertile Heating must be installed by trained applicators, approved by Warmup New Zealand Ltd
It is important to review the size of the room that is being heated and check for movable and immovable features or furniture in the room. This will determine the actual area to be heated and the size of the heating element required. (the floor under cupboards does not need to be heated).
Limitations on Use
Connection of the heating element to the thermostat should be in Zone 3 (See AS/NZS 3000:2018 — pages # 339- 342)
The heating element can be installed either below or on top of the waterproofing
Warmup undertile heating installation will add approximately 3-4mm to the floor height when protective screed is used
Statement of Building Code Compliance
The Warmup Undertile Heating System, if designed, used, installed and maintained in accordance with the statements and conditions of BRANZ Appraisal #644 [2017] will meet the following provisions of the New Zealand Building code:
Clause B2 DURABILITY: Performance B2.3.1(b), 15 years and B2.3.1 (c), 5 years. Warmup Undertile Heating meets these requirements — see paragraphs 8.1 and 8.2
Clause F2 HAZARDOUS BUILDING MATERIALS: Performance F2.3.1 Warmup Undertile Heating meets this requirement and will not present a health hazard to people
Clause G9 ELECTRICITY: Performance G9.3.1. Warmup Undertile Heating meets this requirement. See Paragraphs 9.1 and 12.1
In-Service History
The Undertile heating element was first installed in 1995. Since 1995, Warmup has installed more than 350,000 heating elements in New Zealand and Australia. Warmup has a network of distributors and accredited installed across the country.
Other Performance Attributes
Undertile heating is the best type of heating for tile and stone as they have high thermal conductivity
Under normal usage and maintenance conditions, Warmup undertile heating will provide a serviceable life of at least 15 years. The thermostat is readily accessible for servicing should it be required
No servicing of the electrical elements should be required unless damage has occurred
Electrical components used in the Warmup Undertile Heating System meet the requirements of the Electricity Safety Regulations 2018 for electrical safety of fittings and electrical appliances
Warranty
Heating elements come with a 10 year warranty
Lifetime warranty on heating elements and installation if installed by a Warmup accredited installer
BRANZ Appraised
Warmup is an international company providing quality electric underfloor heating solutions to homes and businesses worldwide.
Product Enquiries
Get a free weekly digest of essential news
New and updated architectural products, design solutions, inspiration, technical advice and more when you sign up for EBOSS.