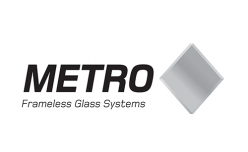 Metro Frameless Glass
For home or commercial use, the most innovative designs of world-class MFG fittings put your ideas into practise.
Product literature confirmed current on April 3 2017
Contact
PosiGlaze PG120 and PG180
Description
The PosiGlaze Glass Balustrade System was developed for cantilevered structural balustrades to cope with the transition from monolithic Toughened Safety Glass (TSG) to Toughened Laminated Safety Glass (TLSG).
The unique design uses a special high strength hollow core aluminium extrusion and special glass clamp kits that clamp the glass and locate into the section. This means the system can be used on 12, 15, & 19mm TSG; 15.2, 17.2, & 21.2 LTSG with SentryGlas interlayer; and 13.52, 17.52 & 21.5 LTSG with EVA interlayer; without holes in the glass. Holes can make the systems more complex and often the holes are the point of failure.
Key Features
PosiGlaze's clever locating and adjusting technique allows installers to adjust the glass panels once in place, with a turn of a spanner, saving on installation time
The PosiGlaze Glass Balustrade System can be base fixed or side fixed for top or side (face) mounted balustrade applications
The sections and covers are fully anodised for durability and come standard in a unique brushed anodised finish which give a 'Stainless Steel Effect'
Other aluminium finishes are available on request.
Statement of Building Code Compliance
The PosiGlaze Glass Balustrade System has been designed and tested to New Zealand and British Standards, which use similar occupancy types and loading requirements.
The NZ testing is to AS/NZS 1170 loadings in accordance with B1/VM1 Amend 8, for Occupancy A,B,E,C3 and the higher C1,C2 and D loadings. Therefore the systems can be used for all residential applications and commercial applications, except for C5 (overcrowding).
This file is only available to registered users.
Log in below or sign up for a free EBOSS account.